Best DIY Upcyled Kitchen Island Ideas
Kitchen islands are one of the latest trends in interior design, possibly because old fashioned free-standing kitchens are also back in fashion. Free standing kitchens tend to have more height than a fitted kitchen but they can lack worktop space, so the kitchen island is needed to make up the difference.
As kitchen islands can cost thousands of pounds, and as
Fab Fings
is an eco-friendly, vintage, make-do-and-mend kind of shop, we've put together (note...not '
curated
') a collection of novel DIY and upcycled kitchen islands to inspire you.
Best DIY Upcyled Kitchen Island Ideas
The kitchen island above from
Hallmark Channel
is so easy to make. These vintage sideboards or buffet cabinets are cheap as chips in charity shops but can look so good with a quick lick of paint. The only additional expenses are for the worktop and, if you prefer, the casters (make sure they have breaks or you will be walked around your kitchen as you roll out your pastry!).
If the sideboard top is solid wood, you could just sand it down and oil it. However, it's probably veneer so best remove it and replace it with a piece of marble, worktop or wood. Or you could cover the top with metal.
Best DIY Upcyled Kitchen Island Ideas
The kitchen island above by
Laughing at the Days to Come
is another upcycled project. It's made using a vintage chest of drawers with a new top that extends out at the back to provide a breakfast table. The same results can be achieved by using a dressing table but you'd have to remove the mirrored upright of course. Vintage dressing tables can be picked up for next to nothing but they do tend to be quite low, so you might need to extend the legs somehow.
DIY Kitchen Island
This super sweet DIY kitchen island above looks to have been made out of a circular table and a chest of drawers. This merged table and drawer island photo comes from
Jamaica Byles
.
Best DIY Upcyled Kitchen Island Ideas
Something a little more adventurous is the kitchen island above by
Bodnar Custom Builds
. Here, a reclaimed door has been used and it's been coated with a clear resin pour. The resin is very durable and if, in time, it does become dull from scratches, another thin coat of resin will restore it. This is a great way to reuse an old door taken out of a period property during renovation work....to keep it in the house!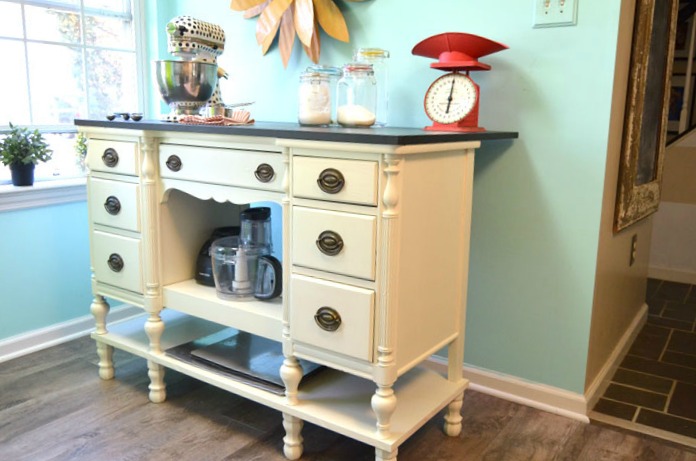 Best DIY Upcyled Kitchen Island Ideas
Another idea is to build a kitchen island with compartments for your kitchen equipment. This frees up space on your worktops and removes these ugly electrical appliances from your kitchen. This kitchen island, made by
Create and Babble
, is awesome as it looks good, it's salvaged a vintage piece of furniture and it's very practical too. The dresser was too low down so a platform was built for it to sit on, the gap then providing storage space.
Best DIY Upcyled Kitchen Island Ideas
The kitchen island above goes even further. My guess is that this kitchen island is a mock-up of a few vintage or antique items of furniture. First, there is the glass door cupboard in the middle. On either side it looks like there are two halves of a cut up table. The base looks like a door or the top of another table and the top is the top of another table.
With casters on the bottom no doubt, this large item of furniture is the business! It might have been purpose built originally but, if not, now you know how to build it yourself. You just need a lot of tables! It was sold by
May Fly Vintage
.
Best DIY Upcyled Kitchen Island Ideas
The DIY kitchen island above by
Heir and Space
is soooo gorgeous! This clever utilisation of the dresser demonstrates the versatility of the drawer space, either kept as drawers or converted into shelves. Aren't the handles and legs the cutest!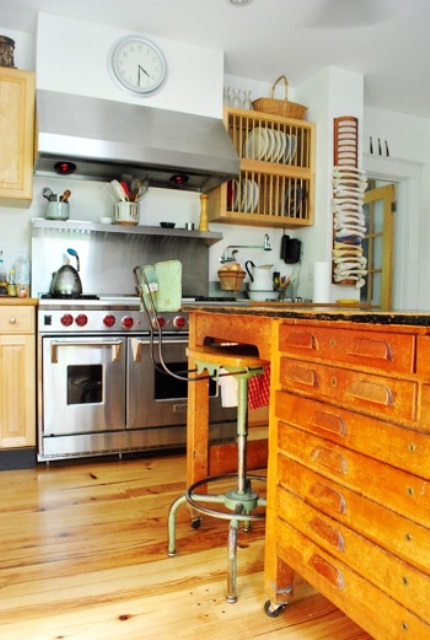 Best DIY Upcyled Kitchen Island Ideas
One thing I love about utilising vintage pieces is the original look you can achieve. Certainly nothing fuddy-duddy about the kitchen above at
Digs Digs
. Here, a vintage artwork or technical drawing desk has been connected to a table and a top added across the two, providing storage space, seating and worktop.
Best DIY Upcyled Kitchen Island Ideas
Sometimes, keeping it simple is the best option, as the kitchen island above proves. I'm not talking simple as in simple on the eye but simple to create. This vintage sideboard hasn't been altered other than perhaps having a slab of marble fitted to the top to extend out at the back. It's not been painted, nothing's been chopped off and the height is as it was originally. But it works so well! A beautiful and very grand centerpiece for this traditional looking kitchen that combines light coloured cabinetry with this one piece of dark brown furniture, the latter making a big comeback.
So there you have it...lots of novel ideas for building your own DIY kitchen island by upcycling vintage furniture to suit your individual needs and your unique kitchen.
For vintage kitchenware to help make your kitchen more unique, please check out
Fab Fings
.